In Part One of The Value Proposition for Digital Package Printing, we discussed the operations (material and operations planning) and marketing benefits relating to digital printing. Recognizing the reality of this operations and marketing dual purpose for digital, we break the compelling reasons for digital printing in packaging into two tracks.
Track 1– Utilizes digital printing capabilities where it can eliminate cost and relieve operational issues.
Track 2 – Utilizes digital printing capabilities where it can provide marketing advantages.
Continue reading
The days of one-way messaging through TV or print ads to appeal to consumers' purchasing decisions have given way to "engagement marketing". Two-dimensional (two-way) communication where consumers participate, share, and interact with a brand creates crucial interaction resulting in business and personal success. The bi-directional nature of social media enables a two-way marketing channel.
Continue reading
The digital age is changing our world. Forces driving the change are: people, information and technology.
In our report; Is Digital Printing Part of Your Brand or Operational Strategy? We describe how technological advances with the Web, computers, mobile phones and tablets enable billions of people to connect all over the world, including a burgeoning number of consumers in emerging markets. And this worldwide connectivity has led to continued growth in methods of electronic information exchange. We now live in the social media world of Facebook, LinkedIn, blogs, tweets, Skype and streaming video, all feeding into daily tidal waves of information. We receive news and information right in the palm of our hands in near real time.
Continue reading
My first exposure to digital printing for Corrugated Packaging occurred when I joined Inland Container.  This occurred in late 2000, and Inland was in the process of developing a prototype digital press to evaluate the potential for digital printing in Packaging.  At that time, technology options were extremely limited, and the resulting image quality was at best suitable for printed stock boxes.  Still clear is the excitement; confusion and disbelief in the eyes of a customer when we showed them how they could design packaging, press a button, and see the packaging production begin in less than 90 seconds.  Job changes were managed on the fly, with versioning occurring without stopping production. The final, Aha moment occurred when the cartons were printed with a picture of each participant, each carton within the run different, at production speed. The reaction was as they say, priceless.  The problem is, and continues to be, priceless is an emotion; and emotions will not pay the bills!  Welcome to the digital promise!  The question needing to be answered is; how and when can we pay the bills with digital printing?
Our firm Karstedt Partners consults with a wide variety of companies at many levels within the Packaging Supply Chain.  Forecasting and projecting the technical requirements necessary for success with digital technologies in Packaging applications is one area we are quite familiar with.  We regularly speak with converters involved in high end graphics.  These converters consistently speak of 15%-20% of high graphics jobs being a better fit for digital printing.  Order volume is just one of the reasons frequently cited, others include difficult job set-ups, addressing urgent customer needs/lead time issues, and reduced cost.  Converters who currently have digital assets also speak to the eventual development of discreet digital markets.  These converters believe widespread access to digital printing, combined with a desire among Brand Owners to expand the use of print in promotional events, may grow high graphics demand by 20%-40% over time.  The concept of a discreet digital market is not unique to Corrugated Packaging, and has developed in virtually every segment digital printing participates in.  In Commercial Printing, the discreet market has developed around variable data, enabling customers to personalize printed literature.  In Labels, the discreet digital market has developed around JIT initiatives supporting new product launches, initial production requirements leading to full production, end of life product management, and packaging enhancements adding additional color.  Brand Owners, especially smaller Brands, consistently state the desire to extend beyond two color printing, but lack the budget to do so.  Digital printing enables the addition of color at little to no expense.  If you are printing in blue today, and wish to replace some of the blue with red, digital printing can easily accommodate that, without adding expense.   In our discussions with digital technology developers and Corrugated Converters, we define the current available US market for digital participation at approximately $1 billion dollars at the converters selling price.  The current market will most likely expand to a $2-$3 billion dollar market fairly quickly, based on the capabilities of the press.  Even at $3 billion dollars, digital printing is about 10% of the overall corrugated market, so why bother?  Our response is competitive advantage and profitability.
How do you build competitive advantage and profitability through a niche digital offering?  First, digital printing will not be a niche offering.  In the context of the overall Corrugated Market, digital printing will not have a commanding presence.  In the context of High Graphics Corrugated, digital printing has the opportunity to be a significant participant. Keep in mind, digital printing is potentially a "disruptive technology".  By definition, disruptive technologies have the capability to be game changers.  In my first days at Inland a senior sales executive made the following comment, "if we make digital printing about the ability to print a box, we all lose".  Converters have sufficient options for printing a corrugated box.  What is lacking is a print technology capable of addressing process inefficiencies, directly or indirectly related to the expanded process for corrugated printing, design, procurement and brand strategy.  Digital printing offers several unique advantages in this area. What are the process inefficiencies that you or your customers are struggling with?  How can digital printing be used to address them?  I was visiting with a company that manufactures air filters for the automotive aftermarket when an urgent call came in from their Sales Manager in Canada.  Their largest Canadian retailer had just stumbled upon the fact that the packaging they were receiving from the filter company was not printed in both English and French.  They were advised they would lose the business unless they could have new packaging on the shelf in two weeks.  Over 80 SKUs were involved, and the GM was not optimistic about the ability of their suppliers to respond in such a tight time frame, not to mention the expense for managing that many revisions.  Now, imagine if you had digital printing capability, even to manage the interim requirements while you completed the overall packaging transition.  A digital printer could be printing packaging within hours.  How often is your business confronted with similar issues?  What capabilities do you have to respond?  Competitive advantage can be obtained in a variety of ways.  Few truly obtain cost advantage, but many act like they have it.  Product advantage, when similar materials and processes are utilized is hard to obtain, much less sustain.  Service advantages built around digital processes have the ability of extending from product design to inventory and replenishment strategies. And, service advantages are sustainable with digital printing.
Second is the ability for digital printing to impact profitability.  We see several ways for digital printing to enhance profitability:
Incremental sales through enhanced service and product capabilities
Leveraging your ability as a problem solver into additional business opportunities that fit your business
Participation in the development of the "discreet digital" market
Attacking areas of operational inefficiency being created through SKU proliferation.
We have covered the first three items, let's address the fourth.  In a high graphics environment, what is the impact on your operational cost when job set-ups increase by 10%, but volume remains constant?  What if the number is 30%?  We know, you would identify and capture the resulting inefficiency, and charge the customer accordingly, correct?   If so, you are in the minority.  Even simple moves, like moving four-five set-ups per day from your existing operation to a digital press may free up a shift per day for production, rather than set-up.  We have had a number of converters, after working with them to assess digital opportunities, state that digital printing may be the lowest capital investment for adding incremental or peaking capacity, in addition to the other potential advantages of digital printing.  Resist the desire to do a side-by-side comparison on the cost of print between analog and digital presses.  Instead, look at the value generated when you use a digital press for operational relief, the results may surprise you.
For digital printing to succeed and be in a position to impact a converters business as described above, the technology must be able to participate in production job requirements. What is required?  Current flatbed capabilities generally fall into a range of 5,000-6,500 square feet per hour. This range needs to increase to 25,000 to 30,000 square feet per hour, and help is on the way.  Barberan, a company located in Spain, has introduced a single pass UV press capable of printing on sheets with a maximum dimension of 59.5" x 144" at a speed of 178 linear feet per minute.  This output rate equates to over 50,000 square feet per hour, production capable for sure.  We know little about this press or the company, other than what is on their website, but it is indicative of what the future may hold.  Seven years ago there were five to seven digital companies exhibiting at label Expo.  At last month's Label Expo there were over 30 companies promoting digital printing solutions.   HP has been a long term participant in developing packaging solutions, other well-known industry leaders such as Kodak, Epson, Konica Minolta, Oce/Canon, Xerox, FujiFilm and Screen have either introduced products for packaging, or have announced their intentions to do so.  At last year's drupa exposition, traditional analog manufacturers such as Bobst, KBA, Heidelberg and ManRoland announced partnerships with digital developers.  Over the next five years we anticipate a host of solutions, addressing both sheet fed, and web fed requirements, as both stand-alone and in-line solutions.
Dr. Geoffrey Moore is the author of several well-known books addressing all facets of disruptive technologies.  Dr. Moore uses the following diagram to explain the technology progression.

The chasm is where most new products die, as they fail to move from early adopters to the early majority, or the mainstream market.  Flatbed digital technology has established a beachhead in corrugated packaging, but it is clear the output of these products is not sufficient to gain the interest of mainstream markets.  The next generation of technology has garnered the attention of mainstream markets, but it still needs to deliver.  Digital printing in Labels has either passed through the chasm, or is close to passing.  New press technology targeting Folding Carton has caught the attention of mainstream Folding Carton Converters.  Efforts in Flexible Packaging are developing.  The combined efforts in all four markets have caught the attention of the Brand Owner, and they are now preparing for a future with digital printing.  Coca Cola gained a lot of positive press this summer by launching a campaign in Europe for several Coca Cola soft drinks through a promotional campaign combining traditional media such as print and TV with interactive promotions through social media and the Coca Cola website.  The cornerstone of the initiative was the use of digitally printed labels enabling Coca Cola to personalize the cans with the most popular names in designated regions.  Yes, the consumer was able to purchase the product with their name on the can.  In his books, Dr. Moore speaks about the dangers to companies who are late in adopting disruptive technologies.  The value of competitive differentiation enables those with the differentiation to participate, while effectively locking out those without the differentiation.  Sustainable differentiation means the competitive advantage endures, assuming you leverage the early gains into other areas of competitive advantage.  Digital value propositions focused on print deliver short-term competitive advantage.  Digital value propositions focused on upstream and downstream process advantages, both internally and externally create sustainable competitive advantage.  If you are a participant in High Graphics Corrugated, you may not desire to be the first to enter, but can your business really afford to be late?

Email  | 
Print  | 
Order Reprints
Jeff Wettersten is President of Karstedt Partners, consultants to the Packaging Supply Chain.  Karstedt Partners work with technology developers, retailers, brand owners converters/printers and suppliers in strategy development, product and market commercialization strategy, process optimization, and sales training.  Jeff may be reached through e-mail at Jeff@karstedt.com or www.Karstedt.com.
This article was originally published on WhatTheyThink.com at: http://whattheythink.com/articles/66614-digital-printing-corrugated-packaging-holy-grail-third-rail/
Continue reading
Karstedt Partners has teamed with Sean Skelly (founder of Jetrion and former GM for EFI) to produce a video series to help those in packaging that are looking to better understand how digital printing can be used for Packaging and Label applications.
Here is the Pilot video of the new series!
Continue reading
Print 13 started out very nicely for me as my first official meeting was a breakfast meeting on Sunday morning with Benny Landa and three of my "packaging" colleagues, Danielle Jerschefske of Labels and Labeling Magazine, Pat Reynolds of Packaging World and Yolanda Simonsis of YTC Media. At the very relaxed event at a downtown Chicago hotel, Benny (as I now call him because we are "buds") shared with us the updates on the packaging versions of the new nanographic digital press line that was introduced at drupa last year.
Coming out of drupa last year I had a pragmatic set of expectations set for the release of the Landa presses to the world. This kind of technology is not easy to bring from the lab to the production floor, my feeling is that drupa was about 12 months early, but that could not be adjusted. So the early print sample quality (and the problems I saw in what they were showing) and aggressive target for beta were just that, samples and targets. I expected the quality to rise and the beta to slip so the announcement over eggs and toast that beta for the first press would be Q4 or 2014 and impressive print samples did not surprise me. What did surprise me a bit was that the first press would be the S10FC with FC standing for Folding Carton. We in packaging are so used to getting commercial printings hand-me-downs, it was a breath of fresh air to hear we were FIRST on the docket. It makes sense in that the FC does not have to print on both sides (duplex) for most carton applications so getting one sided printing commercially acceptable is the first hurtle and one we in packaging can handle just fine. Another nice thing is that the S10 frame can handle a sheet size of about 41" by 29.5" (updated on September 24th) or as they like to say "B1"; which is another pet peeve of mine, "drop the 'Bs' when you talk packaging", lets see if it gets through this time…
There will be numerous articles written on this topic but few will have the "packaging spin" that this one will as I will focus on the items my readers are most interested in. I suggest you read the article by my colleague, Cary Sherburne, also on WTT, to get her keen insights; she was invited to a special session at Print13 for the commercial side of the house. Included with her article is the Landa Press Release around these announcements.
So here are my observations and comments:
New ink "ejectors" – I think it interesting that they continue to call them "ejectors" when the rest of the world calls them inkjet heads but that is part of the mystique of Landa. The resolution of the "ejectors" has gone from the drupa 600 dpi to 1200 dpi today. Speculation is that this is being done with new Kyocera heads, ooops, ejectors, but that was not confirmed or denied when I asked. This is likely one of the key reasons they have been able to increase print quality as much as they have. It is also a reason they will be able to control nozzle dropout problems as the systems go online.
The Quality "S" Curve – Shared with us was a graph they use to show where they were and are going related to print quality. They fully admit the quality has been sub-par and needs to improve. On the curve you can see they feel they are almost at "offset" quality and plan on being will within that range by next years beta. Quite honestly the image quality I saw over breakfast was sellable for most uses, better is always better and I am sure we only saw "the good stuff" but I was encouraged. Issues of printing on various coated and uncoated stocks as well as virgin and recycled boards don't seem to intimidate them due to the way the ink layer is transferred from a printing blanket to the substrate in a solid rather than liquid form. This could be an advantage over systems that jet UV or Aqueous inks directly to the board where spread and adhesion can be challenging. This could have real benefits to carton producers looking for an edge.
FDA Compliant Inks – As the print samples were being passed around the table while we were still drinking coffee and munching on something sweet, it was noticeable that there was on odor coming from the print samples as you would usually notice from digital samples. This is due to the inks being water based and maybe from the strong smell of the Starbucks coffee. The company claims the inks are all FDA compliant and with low or no odor they will be good for cosmetic and pharmaceutical work as well. This needs to be validated but it is a good sign.
The New Operator "Cockpit" – If you are reading this far into the article you have likely seen the original Landa press shown at drupa. When looking at the huge "iPad" type control screen stuck to the front of the press my business partner, Jeff Wettersten, said to me "now that looks like a forklift accident waiting to happen". It seems that others, some of the 120 customers the company says they visited to gain feedback, told them the same thing. So the new version has this interactive cockpit for the operator to work in more of a conventional environment. On the screen are video monitors with real-time shots from critical areas inside the press and all the critical operating functions right next to the output tray. They even have a viewing table (where is the back of the light booth?).
Optional Conventional Inline Coating – In their press release the company says: "An optional conventional inline coating unit will efficiently enhance Nanography-printed products with both flood and selective coating. The coating unit will support flexo rollers and plates as well as a variety of UV and aqueous coatings."
My question to Landa and the others with digital printing solutions is; "Why would I want an analog coating system on my digital press?" The pragmatic side of me knows the difficulties of integrating a digital coating station but the idea of a static coating system on a digital press just seems counter intuitive to me. There has to be high speed jetting (ejecting) systems out there that could jet coating solutions at the speeds and (low) resolutions needed for digital coatings. I am sure that these conventional coating solutions are simply stopgap solutions and that a true digital solution is just a matter of time but I would have thought that if anyone were to bring that to the market first it would have been Landa.
Note that when looking at the overall diagram of the S10 the coating unit is called out as the white unit after the print engine and the large gray unit between the coater and the delivery is the dryer for the coating. The print unit does not require a dryer as the ink is dry from the time it is transferred from the blanket to the substrate.
Not a Niche Printing Press – The notion that the Landa presses will be for short run digital use was totally dismissed. It is clear that mainstream production is the target for the Nanographic technology. In the presentation Benny showed the popular slide of where digital and analog technologies play now with a gap in the middle of production volumes where his presses nicely fit. It is clear they do not see their presses playing niche roles in the production of folding cartons or even flexible packaging in the not to distant future but playing a major one in terms of jobs and volume produced.
Question of Throughput – A few questions were raised at the meeting that I worked with the Landa team to clarify and I have received that clarification on this question today. Originally the system had eight ejector bars (two each for CMYK) this gave the system the ability to print 13,000 sheets per hour. Now the system has a standard configuration of one set of CMYK ejectors that will give a 6500 sheets per hour rating. They say there is a future option for an added CMYK set of ejectors to get the system to 13,000 sheets. This however will likely jeopardize the extended color gamut plans the company plans.
Extended Color Gamut – Benny was very excited about, the use of extended color gamut printing using, CMYK +OVG on the Landa presses. It is interesting to see the level of excitement the company seems to have on this topic, it almost felt as thought this was a new line of thinking. In fact, this topic has been discussed in packaging circles for the better part of the last decade. Outside of a few instances it has yet to gain major traction while it is of keen interest to Brand Owners and Converters alike. I see the obvious upside potential of its application but also see the issues holding it back from full scale adoption. These Nanographic presses coming into the market may add some weight to the positive side of the scale, may help the tipping point, for extended gamut printing to become mainstream. That is yet to be seen but it is an intriguing prospect.
Not So Final Note – My final thought on this article… undoubtedly there will be many more on the topic… I am pleased with the prospects that my new BFF, Benny has laid out for us. Yes the timing is not what some had hoped but it is what realists projected. While it is not rocket science, it is pretty complicated and they had a long way to go coming out of drupa. Frankly I am impressed with the progress they have made and thank the Landa team for including me with "the Packaging People".
Check out Benny's latest video update on Karstedt Partners TV. Bookmark the station too…
This article was originally published on WhatTheyThink.com at:
http://whattheythink.com/articles/65575-update-benny-landa-digital-press-folding-cartons/
Continue reading
In past articles we have brought forward excerpts from a 2012 PRIMIR study that Karstedt Partnerswas commissioned to write titled Packaging: Evaluation of Vertical Markets & Key Applications.This study was unique to many industry studies in that it looked at the force being placed on Brand Owners, the originator of packaging orders. Taking this focus a step further the study looked in-depth at the major vertical markets of food, beverage, household, personal care and healthcare to see what will be driving packaging demand in these verticals and thus driving the supply chain. Following are some of what we brought to PRIMIR members surrounding the label sector. The full table of contents for the report can be downloaded here.
Excerpts Begin:
Label growth will continue, driven by several factors. One major factor is the continued stream of regulatory requirements mandating label changes on a wide variety of consumer products. This factor does not show signs of diminishing and will help drive label production to move forward. Another growth-enabling factor is the trend to connect packaging to social media and on-line brand campaigns. This is especially strong in the label application due to the relative ease in producing labels versus other forms of packaging and to the prevalence of digital printing in the labels application.
North American Label Usage by Key Verticals:  2005 – 2015 ($ millions)Shipments in Thousands of Square Inches (MSI)
2005
2007
2010
2015f
CAGR%
MajorVerticals
MSI
$
MSI
$
MSI
$
MSI
$
MSI
$
Food
2,157
1,499
2,337
1,624
2,143
1,489
2,514
1,747
3.24
3.28
Personal Care
0.978
666
1,060
722
972
662
1,140
777
3.33
3.22
Household
1,123
749
1,216
812
1,115
745
1,309
874
2.98
3.09
Healthcare
1,247
833
1,351
902
1,239
827
1,454
971
3.03
2.99
f= forecast
Source: PRIMIR – Packaging: Evaluation of Vertical Markets & Key Applications – 2012
The Freedonia Group forecasts U.S. label shipments to grow 4.8% annually to $20 billion in 2015. Pressure-sensitive labels will account for 70% of that total. They also see growth in other label technologies such as stretch sleeves, heat-shrink and in-mold labels. These efforts correspond with desires by brand owners for 360 degree product information and no-look labels.
There is a great deal of research and development happening in the label segment to reduce material and production costs. Converters drive these shifts to clear, no-look labels, shrink sleeves and new substrates, striving to build tighter bonds with brand owners who want innovation. Label versatility provides innovative possibilities in graphic design and structure allowing changes in the label application to happen more easily than in other applications.
Paper-based labels are expected to remain dominant in the market, according to Freedonia, but there is a broad shift in favor of plastic packaging, which is better suited to plastic-/polymer-based, pressure-sensitive, heat-shrink, stretch sleeve and in-mold labels. There is also growing interest in bio-polymer polylactic acid but it is not significant.
Another market trend is to use product labels on primary packaging where secondary or outside packaging is eliminated. Examples of this include toothpaste that is increasingly not in folding cartons but in stand up tubes and dry goods that are in bags with attached labels. The industrial market increased its use of labels on more products from water heaters to lighting fixtures that is increasing the development of all-weather industrial labels that can be printed with high quality graphics that will withstand harsh environmental conditions.
Label converters strive to reduce production operation costs while continuing to bring innovation and value to their customers. Discussions with label converters show a common need for production flexibility. Our interviews with label converters showed the same desire for production flexibility, giving it the highest ranking. Flexibility is required so they better address their customer needs.
High definition flexography has been embraced by the label application, accounting for half of the label segment revenues. Flexo-printed, self-adhesive labels dominate growth in this segment because of its versatility. High definition flexography has strong working relationships between press manufacturers and suppliers of anilox rolls, inks and printing plates. These kinds of alliances are crucial for the label application's technological growth.
Flexo presses are also known for their versatility and the integration of other processes within a press configuration. Many now include hot foil, gravure, screen, embossing, die cutting and slitting inline with as many as 10 flexo stations making very complicated labels possible in a single pass press run. This versatility is highly sought by label converters but the added complexity of setups, combined with the decrease in run lengths are two factors that pull against the added versatility.
In the label application, offset presses dominate high quality and efficient production of glue-applied labels. Offset represents about 17% of the application's revenue and is tied to the market decline in glue-applied labels. Outside of the beverage market, pressure-sensitive or self-adhesive labels take a dominant share of the market.
The erosion of gravure in the label application has slowed down significantly from five years ago. Most feel the exodus of converters from gravure has essentially stopped. Innovations in the efficiency of gravure presses and in cylinder manufacturing have helped gravure. Gravure is strong in the high quality, moderately long to long run orders that are still required, and will continue to be as that line of work levels out.
The most significant trend affecting label converters is the familiar mantra of more SKUs that drive the need for more flexible manufacturing capabilities and the ability to react quickly to demand shifts in production. In the 2010 PRIMIR study, "Benchmarking and World Market Trends for Flexographic Printing", 73% of label run lengths were less than 10,000 meters with 25% of the total under 3,000 meters. Additional information on run length trends can be found in a 2011 study published by Karstedt Partners addressing digital printing's viability in the labels segment. The Karstedt study shows that in North American label production, 57% of label jobs are for orders of less than 50,000 labels. Looking further, all orders of less than 50,000 labels accounted for 623,932,154 MSI (Thousand Square Inches) of the total 13,583,867,623 MSI of finished printed labels or only 4.5% of the label volume. Put simply, 57% of orders represent only 4.5% of volume. This speaks volumes to the application's need for operational flexibility and illustrates why digital printing systems are successful in penetrating this market and why eight out of ten of our label converters interviewees say they will get into or expand their capabilities in digital printing over the next five years.
Fueled by digital capabilities, label converters expand their product offerings into shrink sleeves and even folding cartons, providing new revenue streams. Innovative converters looking to sure up their relationships with customers and leveraging the capabilities of their production equipment champion these efforts.
Label converter interviewees identify food and pharmaceutical verticals with the greatest volume focus. They see medical, health and beauty and nutraceuticals with the greatest value focus, while beverages, industrial and household products are mixed. This is interesting in light of the brand owners interviewed where the beverage and pharmaceutical interviewees both ranked labels with the highest value of all the packaging applications.
With label converters providing a high level of innovation directed at their customers, only half felt their customers would be willing to pay a premium for these solutions. As stated earlier, 72% of the brand owner interviewees said they would be willing to pay more for those solutions.
The label converters also said they feel provoked by commercial printers. This is a real challenge to many label converters as commercial printers can efficiently print wet-glue labels on offset sheet fed and some digital presses. Commercial printers most likely supply these services to small local product producers that have a connection with the company producing brochures and business cards.
As part of the study Karstedt Partners interviewed 122 Brand Owners in multiple vertical sectors as well as 60 converters and industry leaders to compile comprehensive trending information that will be affecting buying decisions for the next few years. For more on the study and to become a member of PRIMIR visit them at http://www.primir.org.
About PRIMIR:
The Print Industries Market Information and Research Organization (PRIMIR) is the premier market research association of the graphic communications industry. It was formed in 2005 when GAMIS and the NPES Market Research Committee merged. Both had a long history of producing quality market research about the industry.
Members are from diverse segments of the industry (manufacturers and distributors of equipment and supplies, printers, trade shops, publishers, and paper companies), and are foremost in their area of specialty.
This article was originally published on WhatTheyThink.com:
http://whattheythink.com/articles/64753-label-sector-excerpts-2012-primir-research/
Continue reading
I had the privilege last week of attending the Smithers Pira Conference in Atlanta on the topic of Digital Printing for Packaging. Having been on the advisory board for the conference it was rewarding to see the fruits of our labor being so well received by those in attendance. Together with Tom Cooper of RockTenn, Aditya (Andy) Dwivedi of Xeikon, Eli Israeli of HP Scitex and Sean Smyth of Smithers Pira the advisory board brought a wide range of speakers to discuss not only where digital is today but where it is headed and most importantly, what needs to be addressed by the marketplace to get it there. To guide us down this path we assembled speakers that understand supply chain optimization, packaging, graphics, color management, workflow and digital printing. Then we arranged them to weave a coherent message looking at what is currently being done with digital and what can be done.
Day one opened with digital packaging pioneer Bob Scherer of CL&D Digital who spoke eloquently on how brand owners are currently using digital printing for successful branding programs. He gave examples of working with the multiple functioning groups within a brand (marketing, operations, purchasing) to get buy-in to a program and compromises that are needed to make the most successful program. One story illustrated how compromise allowed the project to work when the engineering group had to "give a little" by allowing 1/16th of an inch to be shaved off the top and bottom of a pouch. This would allow the pouch to run two across the web and allowed the job to meet the cost objectives for the project. Initial reluctance by the engineering group gave way to compromise and a successful project.
Later in day one, Jim Goldman of Global Innovation Professionals, and former Senior Supply Chain Manager for Coke, spoke on how supply chains within a brand are viewed and how digital printing could aid in the reduction in process steps and even entire process channels. Jim's talk was extremely interesting and I would like to focus on two of his points in this article. The first point is an echo from Bob Scherer's discussion that a Brand Owner is really a collection of many entities; marketing, procurement, engineering, design, legal, operations, QA, finance, sales, packaging and others. Jim highlighted that each group has different motivations and different metrics they are measured against. This makes it difficult to modify a part of the supply chain that crosses over many different parts of a company such as packaging.
Jim's second point was more of an illustration. He gave two examples of how supply chain optimization occurred in the beverage industry that eliminated entire process channels. Both these examples were seen as major disruptions to the existing processes and were not embraced easily by those most immediately affected. However both are now standard practices. The first example is one that we in the printing industry can easily relate to, the use of on-site ink blending. Historically, ink manufactures would send mixed, press ready, inks to can manufacturers for use in decorating cans that were then shipped to the bottling plants. Most of the volume of an ink used in metal decorating is in the ink base, a small proportion of the ink volume is from the colorant. To reduce blended ink inventories and handling costs the process was changed so inks were blended from base and colorants to press ready inks in an ink kitchen on-site at the can manufactures facility.
The second example Jim gave centers around shipping air. Historically plastic bottles were blow molded and shipped to the bottling plant for filling. This sub-process required shipping millions of empty bottles around the country that we filled with air. In looking at the process from a broader prospective the idea of moving the blow molding process to the filling lines was born. Pushback to this idea most surely was strong. I can hear the argument now "if the bottle line goes down it will shut down the filling line, and where is the money made?" But today the practice is almost universal. Both in-house ink formulation and bottle blow molding process changes were not readily accepted by constituents at the time but are now standard operating practices. Both process changes took full process channels out of the supply chain and saved both time and money.
Just-in-time manufacturing and near-line (whole in the wall manufacturing as they call it in Europe) production of packaging materials are the initial steps to making a similar change in where packaging materials are produced. Sure there are a lot of reasons why it "can't" be done. Just as there were reasons bottles could not be made in-line with bottling and why inks need to be mixed at the factory. But digital printing is not called a disruptive technology for nothing.
The advisory board planned on having panel discussions with the speakers at the end of each day's presentations. Going into the conference there was much "buzz" around the recent European Coke Label Customization project and we fully expected the speaker panel to be asked for particulars on that topic. Surprisingly, day one's panel discussion centered on brands bringing package printing in-house; it's probability and it's affect on package printers. Day two's panel discussion was driven from the floor by a brand owner who had leapfrogged the idea of digital printing and went to the higher question of how can the entire process of product development and deployment be monitored and managed.
Coming out of this conference I feel a Sea Change in how the packaging supply chain is being looked at from both inside and outside of it's own body. We used the analogy of an umbrella for how we wanted to discus digital printing for this conference. The handle of the umbrella represents the tactical uses of digital printing; the special labeling project, the new wider format web presses coming to market, the new digital die cutting systems being developed. While the top of the umbrella represents all the other things in the process that affect the handle; process management, color management, workflow, and integration with MIS and ERP systems. The top of the umbrella is represents the things that both day one and day two panel discussions were aimed at trying to understand. The big picture of where and how the supply chain will use digital printing and how the supply chain will be altered over the next decade.
For those of us who have been around digital for many years we hear the same statement over and over again, "It's not a matter of IF we get involved, it's a matter of WHEN". By half way through the second day I realized that I had not heard anyone say that statement!  So holding my metaphorical umbrella I closed the conference by saying we have a new mantra; Digital for packaging is NOW, the question that remains is HOW."
This article was originally posted on WhatTheyThink.com on 6/21/13.
Continue reading
JoAnn is a syndicated packaging writer who is arguably the most prolific "packaging person" on social media. I have been following her for years and thought it extremely appropriate to have her featured here for the WhatTheyThink Labels & Packaging audience. Following are the highlights from an interview with "The Packaging Diva".
Karstedt Partners: JoAnn, tell me a bit about your business, who are your clients and what do you offer them?
JoAnn Hines: Much of my work now is with clients who have new products, or product lines they are looking to bring to the consumer and they need guidance in a lot of areas. I help clients with everything from graphic design, as it relates to color choices, and creating a branding message that will resonate with consumers, to packaging substrate choices. I even help them source suppliers.
I focus mostly on branding and marketing needs; if my client needs technical assistance I would pass them on to someone else.
Karstedt Partners: Can you give me an example?
JoAnn Hines: A good example is how I helped The Weather Cannel. They were taking a lot of different products from different suppliers, such as umbrellas and NORAD Radios, and putting them into a single product line. I helped them to make the entire line look as though it came from one source, The Weather Cannel.
I also had an interesting project where I helped a client based in the UK to get his product patented. It was one of the most innovative new packaging ideas I have seen and I helped get doors open for him. That was a very rewarding project.
Karstedt Partners: What are some of the packaging trends you see that will be shaping packaging over the next few years?
JoAnn Hines: Well, sustainability is not really a trend anymore, it is mainstream and every company must have a position on how they are addressing sustainability in their businesses. Part of the reason sustainability is so important is because consumers are so aware of it and place such a high level of importance on it, AND because the consumer is now so "connected" and vocal. Social media gives consumer a platform they never had before and brands are forced to listen to them. Rants on social media can be devastating to a brands future, just as "positive buzz" can help brands.
Another trend I am seeing gain momentum is intelligent packaging. There are so many examples of intelligent packaging from cartons that have lights and say, "buy me" to pharmaceutical blister packs that tell users when to take their pills. The liquor sector is leading the way for high-end packaging because of the high value of the product but I see this migrating to other product types as prices come down due to volume and availability.
Private label products are continuing to grow with many having product and packaging that rival branded products. Likewise there are increases in convenience foods for fast moving households and the need for "senior friendly" packaging for our aging population. This points to the increase in more finely targeted products to smaller and smaller demographic groups, this is going to increase with the use of digital printing which is something you are very aware of. This is also driving order sizes down.
While I'm on the topic of trends, I am also seeing a big push to bring manufacturing back to the US.
Karstedt Partners: Who is driving this In-Sourcing? And is it for packaging and products?
JoAnn Hines: The brands are driving the move so they can take advantage of shorter lead times and satisfy customers desiring/demanding "home grown" products, but the cost of manufacturing, in China for example, is going up with the growing middle class of people over there, and that is making off-shoring less attractive. And this is being seen for both the consumer products and packaging.
Karstedt Partners: So JoAnn, you are known as the Packaging Diva and are prolific on social networking, particularly on Twitter (@packagingdiva). What can you tell me about that?
JoAnn Hines: I've been on Twitter for five years now, that is a long time in social media. When I started there were very few people talking about packaging on Twitter, now there are thousands, I now have almost 20,000 packaging followers around the world and have made almost 40,000 updates. As a matter of fact, I now generate all my work directly from social media connections particularly twitter. I get inquiries and speaking invitations from twitter almost daily.
The other social tool that I love is Pinterest; this is my baby. My main page ispinterest.com/packagingdiva where my "pin board group" has 37,000 images "pined". I have boards for dozens of different packaging types from cosmetics to breakfast cereal. This is such a great tool for designers and brand managers to look and get ideas from packaging all around the world. My "Packaging Pick of the Day" board has 625 contributors from all over the globe. What a great tool to get visual feedback on packaging, and its free! My advice to anyone who is trying to connect to "creatives" is to do it through social media.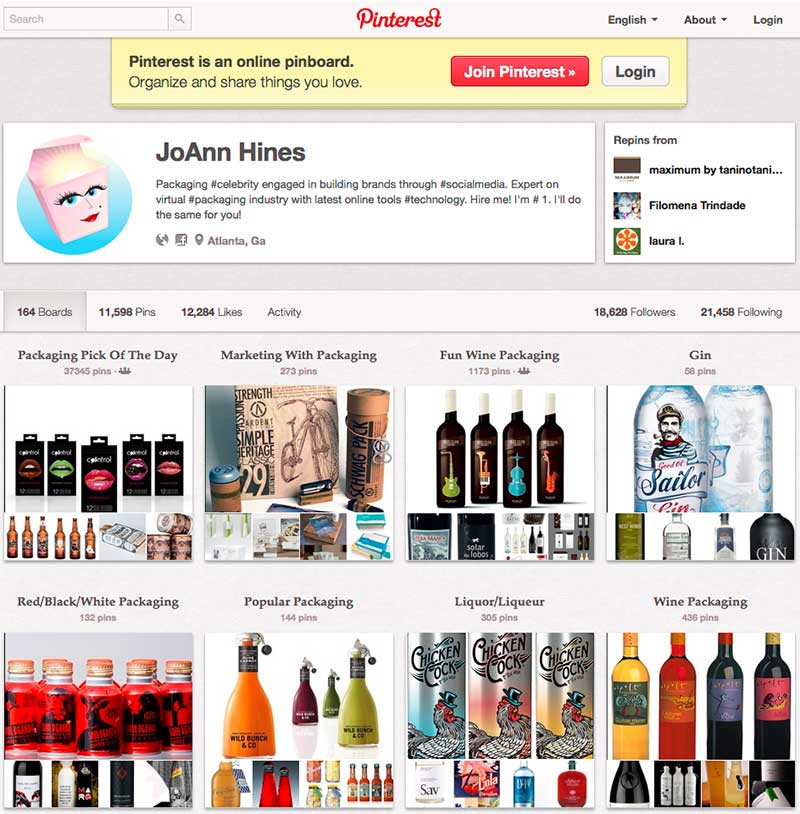 Karstedt Partners: I read on your website that you have spoken at the White House, tell me about that.
JoAnn Hines: That was during the Clinton administration. I had just returned from a trip to China looking at packaging operations over there. The administration wanted to know what things we had that could be leveraged when speaking to the Chinese government. That was a very interesting meeting. I told them that the Chinese want everything we have.
About JoAnn Hines:
Ms. Hines is a packaging consultant with more than 37 years global packaging experience and expertise. She has a comprehensive command of the power of branding, design and merchandising on packaging and how it can influence the consumer to buy, or NOT. As an industry leader, she is committed to promoting packaging as a merchandising tool.
She has traveled the world speaking on packaging trends and technologies and was invited to speak at the White House on US packaging innovations and how that could translate into business opportunities with China.
Her day is spent researching packaging trends and technologies for her clients and in doing so keep them abreast of trends and innovations that impact their business. Because she is independent she can offer an unbiased opinion on the viability of new or breakthrough packaging concepts.
Her packaging trend columns are syndicated around the globe.  In addition to advising numerous analysts about packaging, and creating the mfg.com/packaging global platform she is also member of "Faith Popcorn's BrainReserve" and the number one packaging person in social media. Follow JoAnn on Twitter at twitter/packagingdiva or reach her at packagingdiva@gmail.com.
 This article was originally published on WhatTheyThink.com:
Continue reading
For the past 84 years, the Paperboard Packaging Council (PPC) has been the leading industry association serving suppliers and converters of all forms of paperboard packaging. We spoke with Ben Markens, President of PPC, about the current state of the folding carton industry and the opportunities and challenges faced by its members.
Karstedt Partners: What are PPC's goals and objectives?
Ben Markens: We believe that the value each member extracts from its involvement in PPC should be greater than the resources they invest. So PPC's paramount focus is member satisfaction, which we gauge through active listening to our members, committee involvement, and program participation. To maintain this value proposition, we work continuously to enhance our offerings. We also work to bolster alliances with our sister organizations (such as the AF&PA and ECMA) so that we can address the important issues facing our industry with a common voice.
Karstedt Partners: What are some of the challenges facing the U.S. folding carton industry?
Ben Markens: Most of the issues are common to many segments of U.S. manufacturing, such as lower-priced competition from overseas and stringent governmental regulations, such as proposed legislation on extended producer responsibility (EPR). We've also found that certain misconceptions about packaging—particularly the supposed superiority of lighter weight substrates such as flexible plastics—have confused the public. When you think about it, compared to fossil fuel-based packaging, paperboard is the obvious choice for recyclability, renewability, and sustainability.
Karstedt Partners: What are the most promising opportunities for growth?
Ben Markens: We are hopeful that the recent trend in onshoring [the process of moving  business from overseas back to the local country] will foster a more equitable global market. We are also pleased with the growing consumer focus on sustainable packaging. In a more paperboard-friendly climate, innovation and design opportunities can flourish, so we expect to see more creative, eco-friendly paperboard packaging designs coming down the pike.
Karstedt Partners: What are some of the recent trends and innovations?
Ben Markens: Because of recent advancements in digital printing, small-batch, short-run, and customizable jobs have become more accessible to package designers and brand owners. High-end decorative coatings are also becoming more available and affordable for the more economical styles of paperboard packaging.
There have also been some major design advancements. For instance, the top winning entries of last year's PPC's National Paperboard Packaging Competition included: an innovative blisterpak design, a plastic cup lid and a metal liquor tin ingeniously replaced with paperboard, and a patent-pending method for printing a multi-disc DVD box on just one sheet of paperboard. One of the major awards was for a clever package design for shipping multi-size pipette tips and a design improvement for juice packs that saved the brand owner money across the entire value chain. (To view the winning entries, visit www.ppcnet.org/CCpost)
Karstedt Partners: What changes are you planning that will help members grow and succeed?
Ben Markens: Not only are we providing more educational, members-only webinars on important topics such as how to reduce make-ready time, how to make your gluing systems more sustainable, and how to utilize social media to grow your business, but we are also broadening our data benchmarking programs, increasing emphasis on technical and production meetings, and broadening our specialized communities of interest. For instance, we recently reinvigorated our rigid box committee and are hosting a technical forum design summit on June 4-5, 2013 that will focus on structural and graphic design best practices. (For more info, visit ppcnet.org/TP)
Karstedt Partners: What advice would you give converters about growing their businesses?
Ben Markens: Be innovative, sell, sell, sell, and know your costs. Additionally, train your staff in best practices and as your older employees retire, have a job succession plan in place that ensures effective knowledge transfer. But most importantly, it is vital to network with your industry colleagues; the most effective way to do this is, in my opinion, is to join PPC!
For more information on joining PPC, visit www.ppcnet.org or call Ben Markens at 413.686.9191.
 This article was originally published on WhatTheyThink.com:
Continue reading