by Deborah Hamilton (deborah@mediamondeinc.com)
The folding carton industry has lost a legend. Alan Crane (1924-2014) was a visionary, mentor and cherished friend to many, including members and suppliers of the Independent Carton Group (ICG), who remember him fondly. Despite the brutally cold weather in suburban Chicago on Feb. 26, with temperatures hovering in the single digits for most of the day, over 400 people had traveled from all over the country to pay their respects to Alan at his standing-room-only funeral service – a testament to the many lives he touched both inside and outside the industry.
Continue reading
My first exposure to digital printing for Corrugated Packaging occurred when I joined Inland Container.  This occurred in late 2000, and Inland was in the process of developing a prototype digital press to evaluate the potential for digital printing in Packaging.  At that time, technology options were extremely limited, and the resulting image quality was at best suitable for printed stock boxes.  Still clear is the excitement; confusion and disbelief in the eyes of a customer when we showed them how they could design packaging, press a button, and see the packaging production begin in less than 90 seconds.  Job changes were managed on the fly, with versioning occurring without stopping production. The final, Aha moment occurred when the cartons were printed with a picture of each participant, each carton within the run different, at production speed. The reaction was as they say, priceless.  The problem is, and continues to be, priceless is an emotion; and emotions will not pay the bills!  Welcome to the digital promise!  The question needing to be answered is; how and when can we pay the bills with digital printing?
Our firm Karstedt Partners consults with a wide variety of companies at many levels within the Packaging Supply Chain.  Forecasting and projecting the technical requirements necessary for success with digital technologies in Packaging applications is one area we are quite familiar with.  We regularly speak with converters involved in high end graphics.  These converters consistently speak of 15%-20% of high graphics jobs being a better fit for digital printing.  Order volume is just one of the reasons frequently cited, others include difficult job set-ups, addressing urgent customer needs/lead time issues, and reduced cost.  Converters who currently have digital assets also speak to the eventual development of discreet digital markets.  These converters believe widespread access to digital printing, combined with a desire among Brand Owners to expand the use of print in promotional events, may grow high graphics demand by 20%-40% over time.  The concept of a discreet digital market is not unique to Corrugated Packaging, and has developed in virtually every segment digital printing participates in.  In Commercial Printing, the discreet market has developed around variable data, enabling customers to personalize printed literature.  In Labels, the discreet digital market has developed around JIT initiatives supporting new product launches, initial production requirements leading to full production, end of life product management, and packaging enhancements adding additional color.  Brand Owners, especially smaller Brands, consistently state the desire to extend beyond two color printing, but lack the budget to do so.  Digital printing enables the addition of color at little to no expense.  If you are printing in blue today, and wish to replace some of the blue with red, digital printing can easily accommodate that, without adding expense.   In our discussions with digital technology developers and Corrugated Converters, we define the current available US market for digital participation at approximately $1 billion dollars at the converters selling price.  The current market will most likely expand to a $2-$3 billion dollar market fairly quickly, based on the capabilities of the press.  Even at $3 billion dollars, digital printing is about 10% of the overall corrugated market, so why bother?  Our response is competitive advantage and profitability.
How do you build competitive advantage and profitability through a niche digital offering?  First, digital printing will not be a niche offering.  In the context of the overall Corrugated Market, digital printing will not have a commanding presence.  In the context of High Graphics Corrugated, digital printing has the opportunity to be a significant participant. Keep in mind, digital printing is potentially a "disruptive technology".  By definition, disruptive technologies have the capability to be game changers.  In my first days at Inland a senior sales executive made the following comment, "if we make digital printing about the ability to print a box, we all lose".  Converters have sufficient options for printing a corrugated box.  What is lacking is a print technology capable of addressing process inefficiencies, directly or indirectly related to the expanded process for corrugated printing, design, procurement and brand strategy.  Digital printing offers several unique advantages in this area. What are the process inefficiencies that you or your customers are struggling with?  How can digital printing be used to address them?  I was visiting with a company that manufactures air filters for the automotive aftermarket when an urgent call came in from their Sales Manager in Canada.  Their largest Canadian retailer had just stumbled upon the fact that the packaging they were receiving from the filter company was not printed in both English and French.  They were advised they would lose the business unless they could have new packaging on the shelf in two weeks.  Over 80 SKUs were involved, and the GM was not optimistic about the ability of their suppliers to respond in such a tight time frame, not to mention the expense for managing that many revisions.  Now, imagine if you had digital printing capability, even to manage the interim requirements while you completed the overall packaging transition.  A digital printer could be printing packaging within hours.  How often is your business confronted with similar issues?  What capabilities do you have to respond?  Competitive advantage can be obtained in a variety of ways.  Few truly obtain cost advantage, but many act like they have it.  Product advantage, when similar materials and processes are utilized is hard to obtain, much less sustain.  Service advantages built around digital processes have the ability of extending from product design to inventory and replenishment strategies. And, service advantages are sustainable with digital printing.
Second is the ability for digital printing to impact profitability.  We see several ways for digital printing to enhance profitability:
Incremental sales through enhanced service and product capabilities
Leveraging your ability as a problem solver into additional business opportunities that fit your business
Participation in the development of the "discreet digital" market
Attacking areas of operational inefficiency being created through SKU proliferation.
We have covered the first three items, let's address the fourth.  In a high graphics environment, what is the impact on your operational cost when job set-ups increase by 10%, but volume remains constant?  What if the number is 30%?  We know, you would identify and capture the resulting inefficiency, and charge the customer accordingly, correct?   If so, you are in the minority.  Even simple moves, like moving four-five set-ups per day from your existing operation to a digital press may free up a shift per day for production, rather than set-up.  We have had a number of converters, after working with them to assess digital opportunities, state that digital printing may be the lowest capital investment for adding incremental or peaking capacity, in addition to the other potential advantages of digital printing.  Resist the desire to do a side-by-side comparison on the cost of print between analog and digital presses.  Instead, look at the value generated when you use a digital press for operational relief, the results may surprise you.
For digital printing to succeed and be in a position to impact a converters business as described above, the technology must be able to participate in production job requirements. What is required?  Current flatbed capabilities generally fall into a range of 5,000-6,500 square feet per hour. This range needs to increase to 25,000 to 30,000 square feet per hour, and help is on the way.  Barberan, a company located in Spain, has introduced a single pass UV press capable of printing on sheets with a maximum dimension of 59.5" x 144" at a speed of 178 linear feet per minute.  This output rate equates to over 50,000 square feet per hour, production capable for sure.  We know little about this press or the company, other than what is on their website, but it is indicative of what the future may hold.  Seven years ago there were five to seven digital companies exhibiting at label Expo.  At last month's Label Expo there were over 30 companies promoting digital printing solutions.   HP has been a long term participant in developing packaging solutions, other well-known industry leaders such as Kodak, Epson, Konica Minolta, Oce/Canon, Xerox, FujiFilm and Screen have either introduced products for packaging, or have announced their intentions to do so.  At last year's drupa exposition, traditional analog manufacturers such as Bobst, KBA, Heidelberg and ManRoland announced partnerships with digital developers.  Over the next five years we anticipate a host of solutions, addressing both sheet fed, and web fed requirements, as both stand-alone and in-line solutions.
Dr. Geoffrey Moore is the author of several well-known books addressing all facets of disruptive technologies.  Dr. Moore uses the following diagram to explain the technology progression.

The chasm is where most new products die, as they fail to move from early adopters to the early majority, or the mainstream market.  Flatbed digital technology has established a beachhead in corrugated packaging, but it is clear the output of these products is not sufficient to gain the interest of mainstream markets.  The next generation of technology has garnered the attention of mainstream markets, but it still needs to deliver.  Digital printing in Labels has either passed through the chasm, or is close to passing.  New press technology targeting Folding Carton has caught the attention of mainstream Folding Carton Converters.  Efforts in Flexible Packaging are developing.  The combined efforts in all four markets have caught the attention of the Brand Owner, and they are now preparing for a future with digital printing.  Coca Cola gained a lot of positive press this summer by launching a campaign in Europe for several Coca Cola soft drinks through a promotional campaign combining traditional media such as print and TV with interactive promotions through social media and the Coca Cola website.  The cornerstone of the initiative was the use of digitally printed labels enabling Coca Cola to personalize the cans with the most popular names in designated regions.  Yes, the consumer was able to purchase the product with their name on the can.  In his books, Dr. Moore speaks about the dangers to companies who are late in adopting disruptive technologies.  The value of competitive differentiation enables those with the differentiation to participate, while effectively locking out those without the differentiation.  Sustainable differentiation means the competitive advantage endures, assuming you leverage the early gains into other areas of competitive advantage.  Digital value propositions focused on print deliver short-term competitive advantage.  Digital value propositions focused on upstream and downstream process advantages, both internally and externally create sustainable competitive advantage.  If you are a participant in High Graphics Corrugated, you may not desire to be the first to enter, but can your business really afford to be late?

Email  | 
Print  | 
Order Reprints
Jeff Wettersten is President of Karstedt Partners, consultants to the Packaging Supply Chain.  Karstedt Partners work with technology developers, retailers, brand owners converters/printers and suppliers in strategy development, product and market commercialization strategy, process optimization, and sales training.  Jeff may be reached through e-mail at Jeff@karstedt.com or www.Karstedt.com.
This article was originally published on WhatTheyThink.com at: http://whattheythink.com/articles/66614-digital-printing-corrugated-packaging-holy-grail-third-rail/
Continue reading
In past articles we have brought forward excerpts from a 2012 PRIMIR study that Karstedt Partnerswas commissioned to write titled Packaging: Evaluation of Vertical Markets & Key Applications.This study was unique to many industry studies in that it looked at the force being placed on Brand Owners, the originator of packaging orders. Taking this focus a step further the study looked in-depth at the major vertical markets of food, beverage, household, personal care and healthcare to see what will be driving packaging demand in these verticals and thus driving the supply chain. Following are some of what we brought to PRIMIR members surrounding the label sector. The full table of contents for the report can be downloaded here.
Excerpts Begin:
Label growth will continue, driven by several factors. One major factor is the continued stream of regulatory requirements mandating label changes on a wide variety of consumer products. This factor does not show signs of diminishing and will help drive label production to move forward. Another growth-enabling factor is the trend to connect packaging to social media and on-line brand campaigns. This is especially strong in the label application due to the relative ease in producing labels versus other forms of packaging and to the prevalence of digital printing in the labels application.
North American Label Usage by Key Verticals:  2005 – 2015 ($ millions)Shipments in Thousands of Square Inches (MSI)
2005
2007
2010
2015f
CAGR%
MajorVerticals
MSI
$
MSI
$
MSI
$
MSI
$
MSI
$
Food
2,157
1,499
2,337
1,624
2,143
1,489
2,514
1,747
3.24
3.28
Personal Care
0.978
666
1,060
722
972
662
1,140
777
3.33
3.22
Household
1,123
749
1,216
812
1,115
745
1,309
874
2.98
3.09
Healthcare
1,247
833
1,351
902
1,239
827
1,454
971
3.03
2.99
f= forecast
Source: PRIMIR – Packaging: Evaluation of Vertical Markets & Key Applications – 2012
The Freedonia Group forecasts U.S. label shipments to grow 4.8% annually to $20 billion in 2015. Pressure-sensitive labels will account for 70% of that total. They also see growth in other label technologies such as stretch sleeves, heat-shrink and in-mold labels. These efforts correspond with desires by brand owners for 360 degree product information and no-look labels.
There is a great deal of research and development happening in the label segment to reduce material and production costs. Converters drive these shifts to clear, no-look labels, shrink sleeves and new substrates, striving to build tighter bonds with brand owners who want innovation. Label versatility provides innovative possibilities in graphic design and structure allowing changes in the label application to happen more easily than in other applications.
Paper-based labels are expected to remain dominant in the market, according to Freedonia, but there is a broad shift in favor of plastic packaging, which is better suited to plastic-/polymer-based, pressure-sensitive, heat-shrink, stretch sleeve and in-mold labels. There is also growing interest in bio-polymer polylactic acid but it is not significant.
Another market trend is to use product labels on primary packaging where secondary or outside packaging is eliminated. Examples of this include toothpaste that is increasingly not in folding cartons but in stand up tubes and dry goods that are in bags with attached labels. The industrial market increased its use of labels on more products from water heaters to lighting fixtures that is increasing the development of all-weather industrial labels that can be printed with high quality graphics that will withstand harsh environmental conditions.
Label converters strive to reduce production operation costs while continuing to bring innovation and value to their customers. Discussions with label converters show a common need for production flexibility. Our interviews with label converters showed the same desire for production flexibility, giving it the highest ranking. Flexibility is required so they better address their customer needs.
High definition flexography has been embraced by the label application, accounting for half of the label segment revenues. Flexo-printed, self-adhesive labels dominate growth in this segment because of its versatility. High definition flexography has strong working relationships between press manufacturers and suppliers of anilox rolls, inks and printing plates. These kinds of alliances are crucial for the label application's technological growth.
Flexo presses are also known for their versatility and the integration of other processes within a press configuration. Many now include hot foil, gravure, screen, embossing, die cutting and slitting inline with as many as 10 flexo stations making very complicated labels possible in a single pass press run. This versatility is highly sought by label converters but the added complexity of setups, combined with the decrease in run lengths are two factors that pull against the added versatility.
In the label application, offset presses dominate high quality and efficient production of glue-applied labels. Offset represents about 17% of the application's revenue and is tied to the market decline in glue-applied labels. Outside of the beverage market, pressure-sensitive or self-adhesive labels take a dominant share of the market.
The erosion of gravure in the label application has slowed down significantly from five years ago. Most feel the exodus of converters from gravure has essentially stopped. Innovations in the efficiency of gravure presses and in cylinder manufacturing have helped gravure. Gravure is strong in the high quality, moderately long to long run orders that are still required, and will continue to be as that line of work levels out.
The most significant trend affecting label converters is the familiar mantra of more SKUs that drive the need for more flexible manufacturing capabilities and the ability to react quickly to demand shifts in production. In the 2010 PRIMIR study, "Benchmarking and World Market Trends for Flexographic Printing", 73% of label run lengths were less than 10,000 meters with 25% of the total under 3,000 meters. Additional information on run length trends can be found in a 2011 study published by Karstedt Partners addressing digital printing's viability in the labels segment. The Karstedt study shows that in North American label production, 57% of label jobs are for orders of less than 50,000 labels. Looking further, all orders of less than 50,000 labels accounted for 623,932,154 MSI (Thousand Square Inches) of the total 13,583,867,623 MSI of finished printed labels or only 4.5% of the label volume. Put simply, 57% of orders represent only 4.5% of volume. This speaks volumes to the application's need for operational flexibility and illustrates why digital printing systems are successful in penetrating this market and why eight out of ten of our label converters interviewees say they will get into or expand their capabilities in digital printing over the next five years.
Fueled by digital capabilities, label converters expand their product offerings into shrink sleeves and even folding cartons, providing new revenue streams. Innovative converters looking to sure up their relationships with customers and leveraging the capabilities of their production equipment champion these efforts.
Label converter interviewees identify food and pharmaceutical verticals with the greatest volume focus. They see medical, health and beauty and nutraceuticals with the greatest value focus, while beverages, industrial and household products are mixed. This is interesting in light of the brand owners interviewed where the beverage and pharmaceutical interviewees both ranked labels with the highest value of all the packaging applications.
With label converters providing a high level of innovation directed at their customers, only half felt their customers would be willing to pay a premium for these solutions. As stated earlier, 72% of the brand owner interviewees said they would be willing to pay more for those solutions.
The label converters also said they feel provoked by commercial printers. This is a real challenge to many label converters as commercial printers can efficiently print wet-glue labels on offset sheet fed and some digital presses. Commercial printers most likely supply these services to small local product producers that have a connection with the company producing brochures and business cards.
As part of the study Karstedt Partners interviewed 122 Brand Owners in multiple vertical sectors as well as 60 converters and industry leaders to compile comprehensive trending information that will be affecting buying decisions for the next few years. For more on the study and to become a member of PRIMIR visit them at http://www.primir.org.
About PRIMIR:
The Print Industries Market Information and Research Organization (PRIMIR) is the premier market research association of the graphic communications industry. It was formed in 2005 when GAMIS and the NPES Market Research Committee merged. Both had a long history of producing quality market research about the industry.
Members are from diverse segments of the industry (manufacturers and distributors of equipment and supplies, printers, trade shops, publishers, and paper companies), and are foremost in their area of specialty.
This article was originally published on WhatTheyThink.com:
http://whattheythink.com/articles/64753-label-sector-excerpts-2012-primir-research/
Continue reading
For the first few weeks of we featured articles focused on the corrugated packaging and folding carton sectors. For the next few weeks we will be focusing on the flexible packaging sector.
To help us introduce the various packaging sectors to the growing WhatTheyThink Labels & Packaging readership we asked PRIMIR if we could pull excerpts from their 2012 study that Karstedt Partners was commissioned to write titled Packaging: Evaluation of Vertical Markets & Key Applications. This study was unique to many industry studies in that it looked at the force being placed on Brand Owners, the originator of packaging orders. Taking this focus a step further the study looked in-depth at the major vertical markets of food, beverage, household, personal care and healthcare to see what will be driving packaging demand in these verticals and thus driving the supply chain. Following are some of what we brought to PRIMIR members surrounding the folding carton sector. The full table of contents for the report can be downloaded here.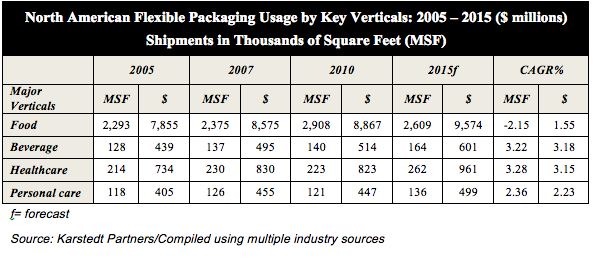 Flexible packaging converters have been leaders in active and intelligent packaging for the past decade. The Freedonia Group projects growth in active packaging to be 6.5% per year to $1.9 billion in 2015. Advances in gas scavenger technology in food and pharmaceutical packaging are the drivers. There are also continued opportunities in self-venting substrate usage of the type used in microwave popcorn. An example of how pervasive these capabilities are, can be seen with the adoption of microwavable, steamed vegetable packaging. Originally developed for premium brands just a few years ago, it is now used for a very high percentage of products in the frozen vegetable and entrée section of grocery stores for national and private brands. Consumer preferences for more natural products with no or less preservatives are creating opportunities for packages that offer longer shelf lives for both fresh and processed foods.
Intelligent packaging, that is more a marketing and sales enhancing tool, currently comes in the form of QR codes and 2D barcodes that aid the brand in communicating with the customer. Freedonia projects expansion of this group now at 20% annually to $370 million in 2015. It is hard to quantify how much activities in this group will affect packaging converters, as much of the implementation is done through communications infrastructure, web sites and databases. Converters add the printed QR codes, barcodes and other graphic components. Intelligent packaging require frequent package design changes to keep their promotions 'fresh and engaging' for the consumer. Heavy users of flexible packaging will us these active measures for better tracking and trace capabilities for food and other perishable products. This is significant in light of the passage of the Food Safety Modernization Act (FSMA http://www.fda.gov/food/foodsafety/fsma/default.htm) introduced in January 2011. FSMA is contamination prevention legislation that will have a large impact on food processing and packaging over the next few years.
Brands and retailers are pushing for packaging and materials that help food products stay fresher longer. Source reduction initiatives are becoming increasingly valuable with initiatives taken by major retailers and brand owners to evaluate supplier packages for eco-friendliness and cost reduction.
Increases in the application are also driven by continued conversions to standup pouches and flat pouches in a number of markets including sauces, dried foods and spices. Flexible packaging converters also benefits from the increased use of convenience features such as zippers and spouts integrated into pouches and the emergence of new applications and products such as flat-bottomed, side-gusseted pouches and hybrid pouch/folding carton products.
Growing efforts by retailers and brands to demonstrate their commitment to sustainability may lead to a renewed interest in paper, for its perceived benefits:  renewable, recyclable and compostable.
Growth in food applications targets eat-on-the-run consumers that will drive more costly film and barrier coatings to extend shelf life. These trends boost the demand for food in smaller package sizes and more convenient foods designed to reduce food preparation time. Trends toward healthier eating will encourage food manufacturers to expand their offerings of products, especially snacks, baked goods and beverages, in single serving packages. Such products require more packaging than standard packages of similar items.
The fastest growing food packaging markets for flexible packaging are: beverage, meat and related products and snack foods. In non-food applications, advances will be led by pharmaceutical and medical product markets based on heightened barrier requirements, cost and convenience advantages.
New developments in barrier resins, bio-plastics, recyclability, biodegradable films and compostable films will also drive market expansion.
Other factors influencing the flexible packaging application include considerable cost and material reduction programs by major food manufacturers, brand owners and retailers. Packaging waste reduction initiatives at the local and government levels also impact flexible packaging producers.
Lean manufacturing programs are present at all levels of the flexible packaging segment. The goal of most converters is produce less waste, reduce setup times, maintain consistency within and between jobs, and gaining overall efficiency.
There are industry efforts to expand the acceptance and use of digitally imaged flexo plates. In-the-round imaging has limited implementation to-date. Other industry technologies that are in the 'ramp up' mode are extended color gamut printing, G7 near neutral calibrations and in-line full web defect detection systems. One of the great successes of recent years in flexographic printing is the relative acceptance of High Definition Flexography (HD Flexo).
While pre-recession growth rates of 4.5% per year are unlikely to be repeated for some time, industry associations and experts expect growth of around 1.8% per year for the next five years.
As part of the study Karstedt Partners interviewed 122 Brand Owners in multiple vertical sectors as well as 60 converters and industry leaders to compile comprehensive trending information that will be affecting buying decisions for the next few years. For more on the study and to become a member of PRIMIR visit them at http://www.primir.org.
This article was originally published on WhatTheyThink.com;
http://whattheythink.com/articles/63336-flexible-packaging-sector-excerpts-2012-primir-research/
Continue reading
For the past 84 years, the Paperboard Packaging Council (PPC) has been the leading industry association serving suppliers and converters of all forms of paperboard packaging. We spoke with Ben Markens, President of PPC, about the current state of the folding carton industry and the opportunities and challenges faced by its members.
Karstedt Partners: What are PPC's goals and objectives?
Ben Markens: We believe that the value each member extracts from its involvement in PPC should be greater than the resources they invest. So PPC's paramount focus is member satisfaction, which we gauge through active listening to our members, committee involvement, and program participation. To maintain this value proposition, we work continuously to enhance our offerings. We also work to bolster alliances with our sister organizations (such as the AF&PA and ECMA) so that we can address the important issues facing our industry with a common voice.
Karstedt Partners: What are some of the challenges facing the U.S. folding carton industry?
Ben Markens: Most of the issues are common to many segments of U.S. manufacturing, such as lower-priced competition from overseas and stringent governmental regulations, such as proposed legislation on extended producer responsibility (EPR). We've also found that certain misconceptions about packaging—particularly the supposed superiority of lighter weight substrates such as flexible plastics—have confused the public. When you think about it, compared to fossil fuel-based packaging, paperboard is the obvious choice for recyclability, renewability, and sustainability.
Karstedt Partners: What are the most promising opportunities for growth?
Ben Markens: We are hopeful that the recent trend in onshoring [the process of moving  business from overseas back to the local country] will foster a more equitable global market. We are also pleased with the growing consumer focus on sustainable packaging. In a more paperboard-friendly climate, innovation and design opportunities can flourish, so we expect to see more creative, eco-friendly paperboard packaging designs coming down the pike.
Karstedt Partners: What are some of the recent trends and innovations?
Ben Markens: Because of recent advancements in digital printing, small-batch, short-run, and customizable jobs have become more accessible to package designers and brand owners. High-end decorative coatings are also becoming more available and affordable for the more economical styles of paperboard packaging.
There have also been some major design advancements. For instance, the top winning entries of last year's PPC's National Paperboard Packaging Competition included: an innovative blisterpak design, a plastic cup lid and a metal liquor tin ingeniously replaced with paperboard, and a patent-pending method for printing a multi-disc DVD box on just one sheet of paperboard. One of the major awards was for a clever package design for shipping multi-size pipette tips and a design improvement for juice packs that saved the brand owner money across the entire value chain. (To view the winning entries, visit www.ppcnet.org/CCpost)
Karstedt Partners: What changes are you planning that will help members grow and succeed?
Ben Markens: Not only are we providing more educational, members-only webinars on important topics such as how to reduce make-ready time, how to make your gluing systems more sustainable, and how to utilize social media to grow your business, but we are also broadening our data benchmarking programs, increasing emphasis on technical and production meetings, and broadening our specialized communities of interest. For instance, we recently reinvigorated our rigid box committee and are hosting a technical forum design summit on June 4-5, 2013 that will focus on structural and graphic design best practices. (For more info, visit ppcnet.org/TP)
Karstedt Partners: What advice would you give converters about growing their businesses?
Ben Markens: Be innovative, sell, sell, sell, and know your costs. Additionally, train your staff in best practices and as your older employees retire, have a job succession plan in place that ensures effective knowledge transfer. But most importantly, it is vital to network with your industry colleagues; the most effective way to do this is, in my opinion, is to join PPC!
For more information on joining PPC, visit www.ppcnet.org or call Ben Markens at 413.686.9191.
 This article was originally published on WhatTheyThink.com:
Continue reading
I caught up with Jay Willie, Executive Director of the Independent Carton Group (ICG) just before he struck out for one of the groups quarterly meetings. The ICG has an interesting business model and long history so I began the interview with that line of questions.
Karstedt Partners – What is the ICG?
Jay Willie – The Independent Carton Group (ICG) is an association of independently owned and operated folding carton companies. None of our members are affiliated with a major paper mill. Our mission is to help member companies competitively compete with the vertically integrated companies. We have three programs to help accomplish this mission; a purchasing program, a supplier assurance program and quarterly business meetings.
Karstedt Partners – Before we get to the nuts and bolts of the association, tell us how the association began.
Jay Willie – Heads of the original five companies met at Kennedy Airport in 1982 to discuss how they could help each other if one of them had a catastrophe occur at one of their facilities. These original member companies were Dee Paper Box, Zumbiel Packaging, Curtis Packaging, Lebanon Packaging and Harvard Packaging. As part of their agreement they began a tradition of best practice and technology sharing that continues today. In 1991 the association hired its first staff that included Andy Willie, recently retired from Curtis Packaging, as its first Executive Director.
Karstedt Partners – So in the following years the association began offering members more services, can you take us through that phase of growth?
Jay Willie – Through the early 90s Andy began evaluating how member companies purchased offset printing plates from various vendors. This first effort in volume pricing provided all members with a means to purchase plates in volume (by using their group consumption) that offered price advantages they could not gain individually. With this success to build on in 1999 the group created the ICG Purchasing Program, which now covers consumables that include paperboard, ink and even die tooling, printing presses and die cutters. We even have a program with Staples to offer office supplies to our members. To give you an example of our purchasing volume the ICG is the largest purchaser of paperboard from Clearwater Paper. In essence, the ICG is the purchasing arm for our members so they have a lot more leverage in negotiation contracts with vendors. Another benefit of the program is that it gives our members access to long-term raw material contracts that reduce the risk of interruption in the event of a paper shortage.
Karstedt Partners – What do you see as some of the major concerns facing your member companies?
Jay Willie – Our members are very concerned with maintaining margins. The economic conditions and competitive landscape have put a lot of pressure on carton converters. For example, the decrease in paperboard capacity in the US is creating an increase in board prices. The entire industry is faced with how to absorb or pass on these increases to the customer. They are also finding it more and more difficult to find qualified skilled labor on the manufacturing side. Fewer young people are getting into manufacturing related job tracks.
Karstedt Partners – How do you see the outlook for the carton market and for your members?
Jay Willie – Everyone is hoping for the economy to get better, assuming that occurs we see many of our members diversifying their product and service offerings. Many are adding new technologies to their manufacturing facilities that allow them to offer more value added products. Many members are expanding outside of their historic niche offerings to offer more full service capabilities to their customers. This can include offering product inserts along with the cartons.
We are also seeing more companies being purchased by private equity firms. As family owned companies look at succession planning many are offered the added option of private equity purchases, which were not such a viable option just a few years ago.
Karstedt Partners – Where do you see opportunities in the carton sector?
Jay Willie – As I mentioned earlier, I see a lot of opportunity for our members in expanding their product and service offerings. Adding more options in coatings and die cutting as well as new graphic features are being done as members reach outside of their niche offerings. I see the industry taking advantage of the green movement with the strength and "greenness" of paperboard packaging.
This article was originally posted on WhatTheyThink.com on 4/11/13.
Continue reading
For the first few weeks of we featured articles focused on the corrugated packaging sector. For the next few weeks we will be focusing on the folding carton sector and will post interviews with Ben Markens of the Paperboard Packaging Council and Jay Willie of the Independent Carton Group.
To help us introduce the various packaging sectors to the growing WhatTheyThink Labels & Packaging readership we asked PRIMIR if we could pull excerpts from their 2012 study that Karstedt Partners was commissioned to write titled Packaging: Evaluation of Vertical Markets & Key Applications. This study was unique to many industry studies in that it looked at the force being placed on Brand Owners, the originator of packaging orders. Taking this focus a step further the study looked in-depth at the major vertical markets of food, beverage, household, personal care and healthcare to see what will be driving packaging demand in these verticals and thus driving the supply chain. Following are some of what we brought to PRIMIR members surrounding the folding carton sector. The full table of contents for the report can be downloaded here.

The growth in the folding carton sector is projected to mirror that of consumer products growing at a rate that matches GDP.
Insights From Converter Interviews
The research team conducted over 180 interviews with constituents all through the packaging supply chain. Following are some excerpts from those interviews with folding carton converters.
The folding carton converters indicated that they are considering moving between flexo and offset printing processes over the next five years. Discussions indicated even movement in-and-out of each process. Both sides of these movements claim high investments and prepress costs are detrimental for flexo adoption and the lower overall operating and finishing costs of flexo over offset on the opposite side.
Carton manufacturers say they need to more effectively manage production orders that are shrinking in size and increasing in frequency. They are actively seeking solutions that allow them to produce more orders while maintaining overall production volumes. This is not simply obtained by purchasing presses that have quick changeovers. This plan moves a bottleneck from one process step to another. Carton converters are searching for solutions that truly transform their operations for the better.
In discussions with a carton manufacturer who recently installed a highly automated large format sheet fed press, he states that one of the major challenges he faces is feeding the press jobs and clearing the table after it. By this he means that prepress has to have fresh printing plates ready throughout the production day, and pallets of board have to be continually loaded into the feeder to assure the press does not have to wait for raw materials. As soon as the press needs to wait for input materials, efficiency and profitability are erased. On the output end, he notes, the bottleneck soon shifts to the die cutting process, which is tuned for fewer changeovers and more volume.
Another area of wasted time and resources is the practice of maintaining inventories of finished goods for customers. In speaking with converters of all types over the years, this practice is seen as a 'necessary evil' that customers need and converters provide. Most say it has gotten a lot better, but it still is a major drain on profits for both the converter and ultimately the customer as well. JIT was offering relief to this practice but in reality it has marginal success. Converters still manage inventories for customers opting for 'just-in time' deliveries rather than 'just-in time' manufacturing.
For most carton manufacturers, quality is a given, there is no discussion about cutting quality to gain productivity or flexibility. The quality standpoint is one of the reasons they tend to stick with technologies they know as reliable. As mentioned earlier, there are mixed messages regarding carton press preferences shifting from offset-to-flexo to take advantage of inline processing available in narrow and mid-web flexo presses for cartons. Converters familiar with flexo printing have a first-hand understanding of the quality of high definition flexo and what is required to produce flexo quality printing. Converters that have little or no first-hand experience with flexo, believe that the cost and learning curves are too steep to make a viable transition. Suppliers interested in bringing flexo presses to the carton segment have to overcome significant inertia, which includes solid ROI data to substantiate the advantages of such systems.
Interest in digital printing is high, but participation is limited… This is not to say that carton manufacturers are not interested in digital printing, on the contrary, interest in new press offerings at drupa 2012 was high among carton converters. This segment eagerly awaits a solution that offers an alternative to running orders on equipment that is not equipped to manage them consistently and effectively.
However, digital solutions bring on a similar series of process issues, most notably what happens after printing, when coating, die cutting and folding and gluing is needed. The issue of die cutting is addressed by digital die cutting that uses lasers and special creasing methodologies. This was shown at drupa 2012 as well as other new technologies that show promise in helping to alleviate these production bottlenecks.
The interviewed carton converters believe that their customers are more 'value-oriented' than 'volume-oriented,' by a 2 to 1 margin. Sixty percent say their customers would pay a premium for products or services that address unmet needs. This corresponds to the brand owners' response. Specifically, folding carton packaging provides the most value to their brands. Overall, 72% of brand owners say they will pay more for products or services that satisfy their unmet needs.
As part of the study Karstedt Partners interviewed 122 Brand Owners in multiple vertical sectors as well as 60 converters and industry leaders to compile comprehensive trending information that will be affecting buying decisions for the next few years. For more on the study and to become a member of PRIMIR visit them at http://www.primir.org.
 This article was originally published on WhatTheyThink.com
Continue reading
For the next few weeks we will be looking at the corrugated sector of packaging, which accounts for approximately $85 Billion in shipments globally and $24 Billion in North America. To help us introduce the various packaging sectors to the growing WhatTheyThink Labels & Packaging readership we asked PRIMIR if we could pull excerpts from their 2012 study that Karstedt Partners was commissioned to write titled Packaging: Evaluation of Vertical Markets & Key Applications.This study was unique to many industry studies in that it looked at the force being placed on Brand Owners, the originator of packaging orders. Taking this focus a step further the study looked in-depth at the major vertical markets of food, beverage, household, personal care and healthcare to see what will be driving packaging demand in these verticals and thus driving the supply chain. Following are some of what we brought to the readers surrounding the corrugated packaging sector. The full table of contents for the report can be downloaded here.
In that study the food and beverage vertical was identified as the largest end-user of corrugated boxes of all segments in North America, accounting for 51% of shipments in 2010. Corrugated for the food vertical are forecast to continue increasing at an average annual rate of 2.4 % through 2015.
Demand for corrugated boxes traditionally fluctuates with the growth of a wide range of consumer products including both durable and non-durable manufactured goods. General macroeconomic conditions such as changes in real GDP, consumer spending, international trade, industrial production and factors that affect manufactured goods markets are the drivers behind volume shifts in corrugated shipments.
The report notes the high percentage and volume of corrugated cartons used for shipping containers has historically insulated the corrugated industry from volume fluctuations caused by material substitutions. Corrugated cartons are valued for their low cost, durability and strength. By industry estimates shipping containers account for 75-80% of corrugated volume.
The corrugated industry is a net exporter of product, for converted cartons as well as Kraftliner. Exports, combined with the emergence of club store volume have helped the corrugated industry to overcome volume losses created by the movement of North American manufacturing offshore. Some analysts project that the U.S. may become a low cost producer again within the next five years due to wage inflation in China and the risk of doing business in Mexico. Manufacturing is beginning to move back to the U.S., and this bodes well for the corrugated industry. According to the U.S. Department of Commerce the corrugated industry export significantly more in 2010 than it imported.
U.S. Exports:
Paperboard Mill Products (Kraftliner) $0.133 Billion

3.4 million tons exported
53% to Canada and South America
18% to Asia and Europe
29% to Africa and Middle East
U.S. Imports:
Paperboard Mill Products (Kraftliner) $0.039 billion
Corrugated and Solid Fiber Boxes $0.314 billion
With the focus of the PRIMIR study on how vertical markets affect the demand for packaging there is a heavy focus on how lifestyle changes are affecting packaging demand and corrugated board. Following are some of the lifestyle changes that are projected to affect packaging demand moving forward.
Demand for convenience foods continues to increase, at both the retailer as well as convenience restaurants. This trend continues to stimulate the demand for corrugated board, particularly in microflute applications such as take-home pizza boxes and other fast food containers. Fast food establishments are also interested in digital printing for promotional campaigns, cross-selling coupons, and targeted marketing initiatives at the local level. Personal grooming products are expanding product categories to reach specific demographic audiences.
The growth of multimedia products drives increased demand for folding carton, corrugated and microflute. Mobile phones, digital cameras, satellite navigation systems, tablets and other technologies are driving demand for microflute with high quality print.
Microflute packaging also penetrates markets such as confectionary, powdered drinks, personal care, alcoholic beverages and other markets. This creates growing demands on the printing industry for improved graphics and finishes, utilizing analog as well as digital printing.
Aging populations exhibit different spending patterns. Health foods, healthcare products, nutraceuticals and anti-aging remedies are growth segments. These products will generate incremental growth in corrugated material used for merchandisers and displays.
Online shopping is the fastest growing retail segment. Packaging is a big issue for online merchants, as consumers frequently object to receiving their product simply placed in a plain shipping container. The objection is based on the consumer perception of the retailer lacking permanence or staying power, and potentially disappearing immediately after the sale. Online retailers are attempting to promote brand identity, and a stronger connection between the online web site and packaging. The need for brand identity must be tempered with the reality of the shipping world, and the need to 'safeguard' the identity of the contents being delivered. This creates multiple opportunities for corrugated packaging, from smart packaging for tracking and tracing of shipments, to shipping containers, to high impact primary packaging.
Technological developments in papermaking and corrugating have allowed the same functions to be performed by lighter boards. From 1990 to 2010, the average weight of corrugated board decreased approximately 12%. In recent years, new capacity and equipment upgrades have created lightweight board.
As part of the study Karstedt Partners interviewed 122 Brand Owners in multiple vertical sectors as well as 60 converters and industry leaders to compile comprehensive trending information that will be affecting buying decisions for the next few years. For more on the study and to become a member of PRIMIR visit them at http://www.primir.org.
This article was originally published on WhatTheyThink.com:
http://whattheythink.com/articles/62544-corrugated-packaging-sector-excerpts-primir-research/
Continue reading
With the launch of the Labels & Packaging section of WhatTheyThink now behind us, we wanted to give you a preview of upcoming topics and what to expect.
First, because our audience includes Brand Owners, Converters/Packaging Printers, Suppliers, and many other readers, the familiarity with Packaging is going to vary. A significant part of our vision is to educate and keep audience members informed regarding the state of the industry, significant events occurring in the industry, and trends or issues that may affect the industry. Our desire is to provide a communication link bridging the packaging supply chain, from the suppliers of equipment and raw materials, all the way to the retailers.
Our focus for the next 9-10 weeks will be discussing specific application segments within the packaging industry. These application segments will include corrugated packaging, folding carton, flexible packaging, labels, rigid containers, and glass packaging. Industry executives will provide inputs on the current state of their segment, opportunities and challenges affecting their segment, and their view on the future outlook. We are inviting suppliers and brand owners to provide feature articles discussing issues or opportunities they see specific to that application area, and how their industry is responding to the issues or needs.
Following the series for packaging applications, we will turn to the retailers and brand owners to gain their input on future trends in retailing, consumer behavior, or packaging requirements that will affect the packaging industry. Topics we will explore will include sustainability, private labeling, the impact of social media on packaging, demand patterns, contract manufacturing and contract packaging, and sources of supply. We are inviting converters/package printers, contract packagers and contract manufacturers, and suppliers to provide feature articles on how the upstream changes at retailers and brand owners is impacting their business, and what their industry is doing to respond.
Next, we will turn to the suppliers of the packaging industry. What is happening with print and converting technology, what is happening with basic raw materials, pre-press supplies and equipment, software, and inks and coatings?
If you have additional thoughts or would like to add areas for exploration, or if you would like to be a author/contributor please feel free to contact me at Kevin@Karstedt.com. We also invite press releases and industry news article to be sent to news@whattheythink.com to make sure they get placed in the news feed section of the site.
This article was originally published on WhatTheyThink.com:
http://whattheythink.com/articles/62407-what-coming-whattheythink-labels-packaging/
Continue reading
This post builds on Part Three of the series and continues to expand on our new report, 2012 drupa Packaging Review – Folding Carton Report where we explore what vendors showed at drupa 2012 it is important to understand what challenges their customers are facing. Karstedt Partners in collaboration with Mike Ferrari of Ferrari Innovative Solutions has developed a series of graphic depictions to help illustrate the dynamics affecting the packaging supply chain. The first diagram shows the revised view of the packaging lifecycle for a typical product. To review, segments "A" and "B" align with special requirements, for either new product launches or promotional activity. Segments "C", "D" and "E" focus on the management of active products. The supply chain focus is on segment "D", the mainline or long run requirements, as this is desired business in a capital-intensive business such as packaging.
The Packaging Lifecycle – Revised View
Source: Karstedt Partners, LLC
This next graphic shows how the demand stream coming from the tails of the lifecycle diagram, quadrants A, B, C and E are driving 70% of orders but only 30% of volume and how that has shifted and is causing major problems in meeting the needs/
Impact of SKU Proliferation on Converters – The New Operational Reality
Source: Karstedt Partners
In the following illustration the yellow box represents the increased inefficiencies created through additional low volume production demands. In a capital-intensive business, profitability risk is far greater in the new model due to the extended time getting to volume runs, and the resulting overall lower capacity due to more production set-ups and greater inefficiencies.
Change in Demand Brings Inefficacies
Source: Karstedt Partners
The reality of the situation is when productivity enhancements are considered over a typical production period the overall impact on most converters is a net decline in capacity, as productivity enhancements have contributed to greater thru-put. Additional SKU proliferation, increasing demand from an improved economy, and limited options for additional productivity improvements from existing equipment and processes is straining operational capability.
The reduction in overall thru-put is also having a negative impact on profitability. This "perfect storm" is forcing converters to re-think their operational model. Converters commonly use the term "flexibility" to define what they are seeking. The perfect solution is a press that combines high productivity, print quality, converting and finishing options, media flexibility, at the lowest cost. Absent the "total solution", converters are seeking to create a broader operational platform to manage variations in daily production demand. For years, converters have upgraded production presses, and have moved non-conforming production demand to older presses to improve productivity. Product requirements, along with changes in press technology, are creating problems around the traditional practice of being able to move demand from one press to another. Converters recognize that specific solutions are now required to manage specific requirements for print as well as converting. The needs of the customer, as well as the needs of the business, now require multiple options for printing and converting.
---
Series Overview: True to its history of introducing new technology to the printing world, drupa 2012 offered plenty of new things. In addition it showcased a great deal of packaging specific offerings in printing and finishing technologies. If drupa 2008 was "The Inkjet drupa" this time around it was surely "The; 'we think we have a digital solution for packaging' drupa". Karstedt Partners spent 10-man days on the floor meeting with equipment suppliers, users, journalists and pundits evaluating what was being offered by vendors, and what was being asked for by users. This 4 part series of posts offers an overview of what we learned from these meetings and can share with those interested in our opinions and observations. The full 61-page report is available by clicking here.
Continue reading